My goodness, it's Thursday and I'm just now getting around to doing a weekend recap! As I mentioned before, Jason's parents were down from New Jersey last week for a visit. We had a great time! I'm very fortunate that my in-laws are also foodies. I'm not sure what I would do if they weren't! As Julia Child once said, "People who love food are always the best people."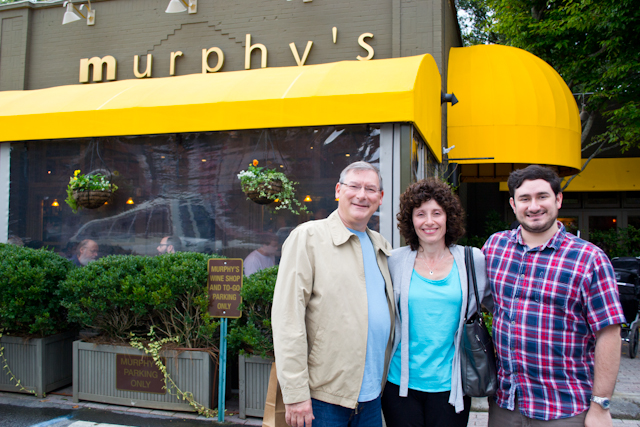 Since breakfast is a big deal down here, I'll start with the breakfasts/brunches that we had! We made an obligatory stop at Murphy's in Virginia Highland, which serves an incredible brunch on the weekends. My mother-in-law had an omelet there when they came down for our wedding years ago, and she hasn't been able to forget about it since! Murphy's never disappoints.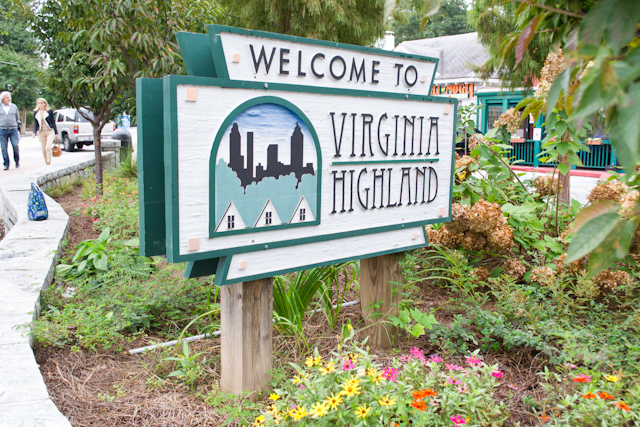 The brunch started out like all great Southern ones do…biscuits! And also some delicious apple streusel muffins.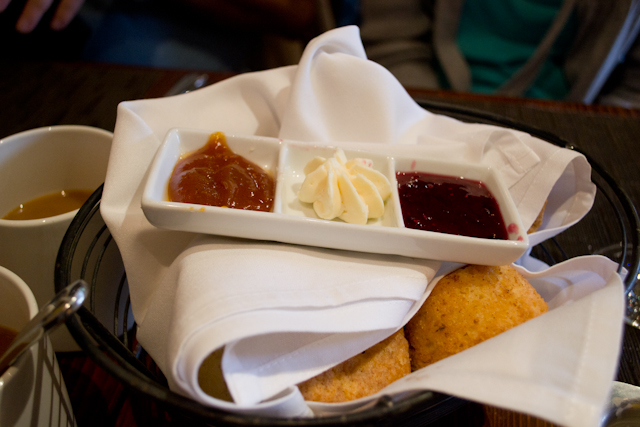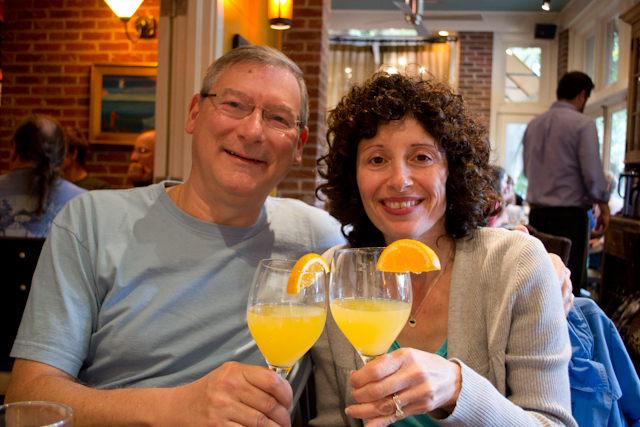 I got an espresso to drink and we all shared a round of delicious mimosas.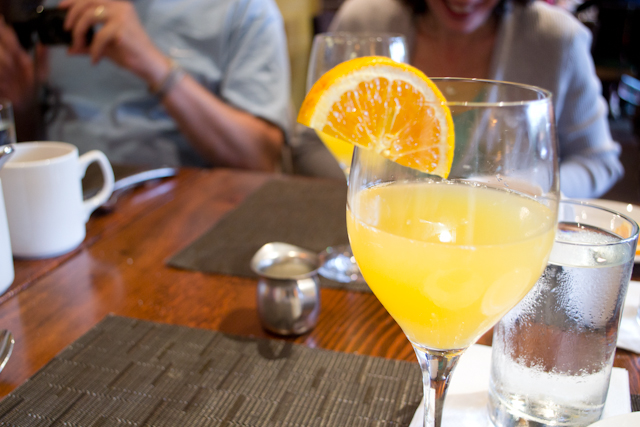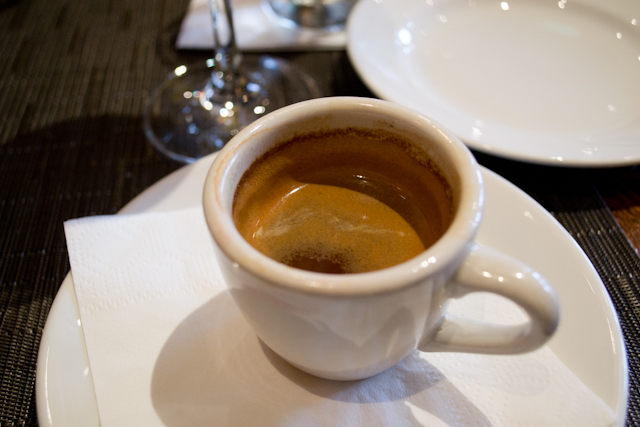 Jason ordered their divine french toast, and I settled on the Eggs Virginia Highland, which was "spinach, mushrooms, poached eggs on focaccia, and sundried tomato hollandaise". Everything was to die for!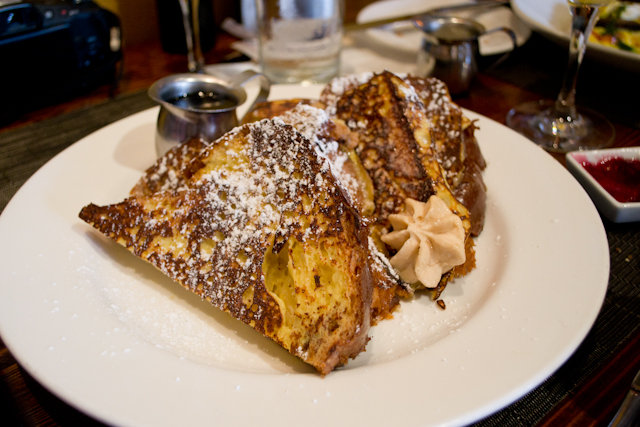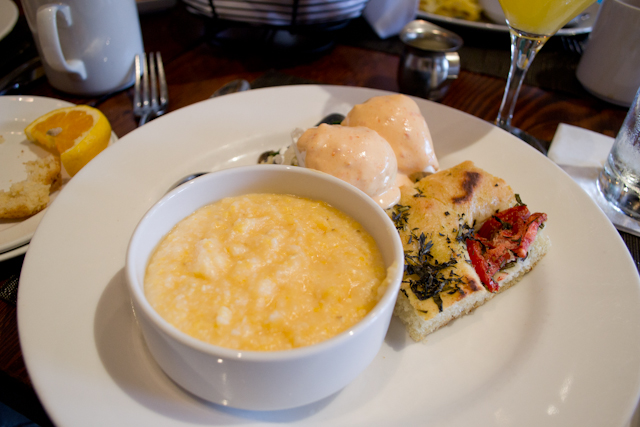 Another morning we went to West Egg in West Midtown, which is the BEST breakfast in Atlanta in my humble opinion. I got a belgian waffle and side of grits this time around!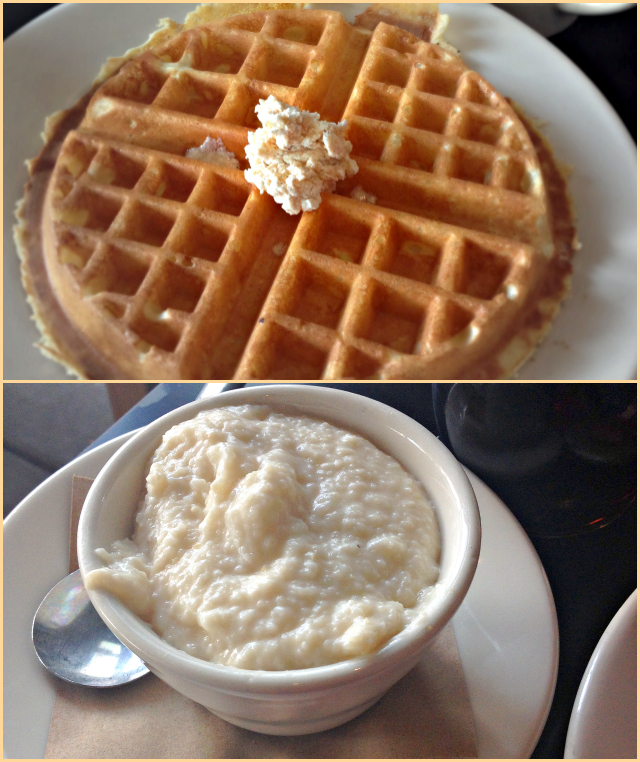 We broke things up with a breakfast at home another morning (I made fruit salad, scrambled eggs, cheese grits, and toast from some of my homemade bread), and then the last morning we went down the road to Rise-N-Dine in Emory Village. My buttermilk pancakes with berries were really good!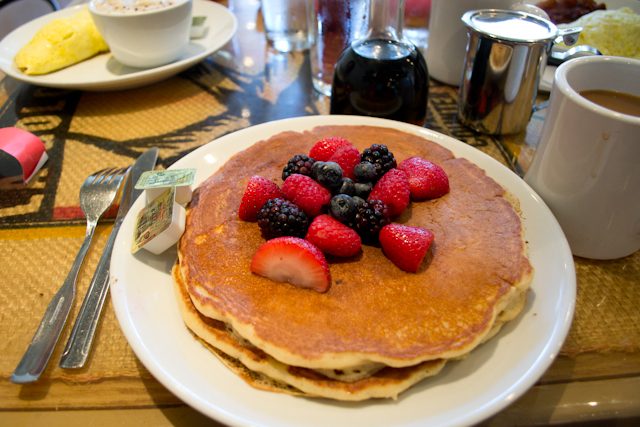 Since we did a lot of big eating and had early dinners, we kept it light on the lunch front. One afternoon we got some bread, cheese, nuts, and olives from Alon's and enjoyed it with a nice bottle of white wine and a couple salads from Fresh to Order. It was perfect!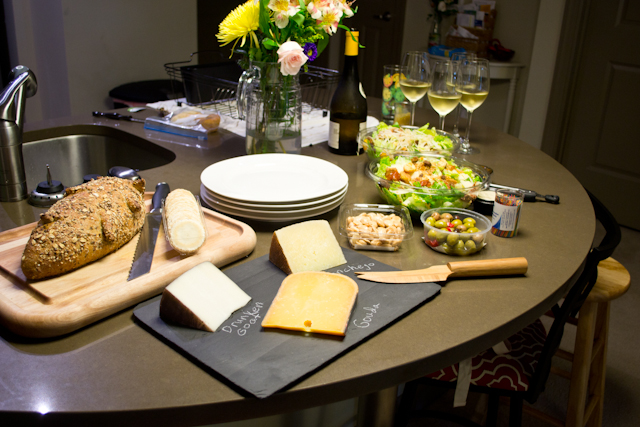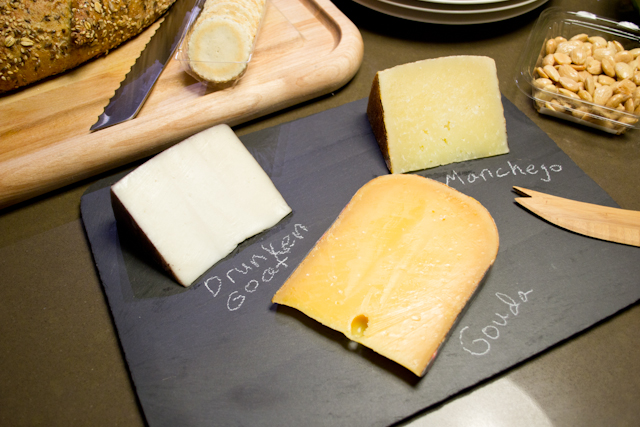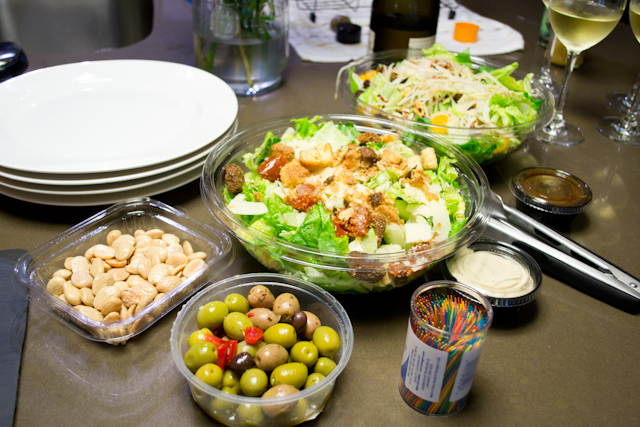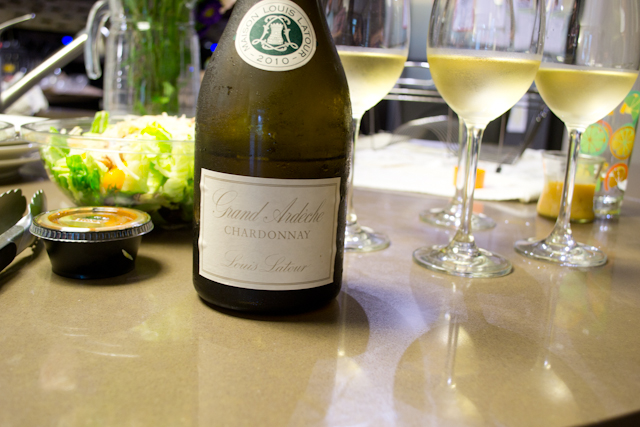 Moving on to dinner! The first night of the visit I made Chicken with Forty Cloves of Garlic, almond-cranberry couscous, roasted butternut squash, and green beans with gremolata. My mom brought over her amazing caramel apple pie for dessert. I was so busy cooking that I completely forgot to take a single picture! Food blogger fail. I did manage to take pictures of the places we went out to dinner.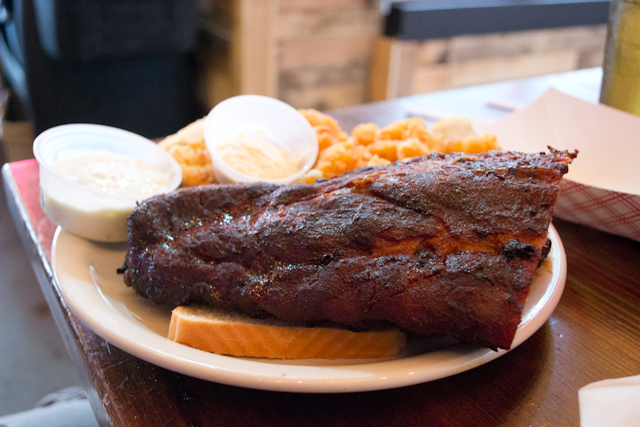 Southern BBQ was definitely on the to-do list, so we went to the best place in town. Fox Bros. BBQ in Candler Park! While I can't say that this is the ideal place to go if you're a vegetarian, it's worth it if you have meat eating family members or friends who want a true BBQ experience. Jason enjoyed the rib platter above and I got a salad and a collection of tasty side dishes.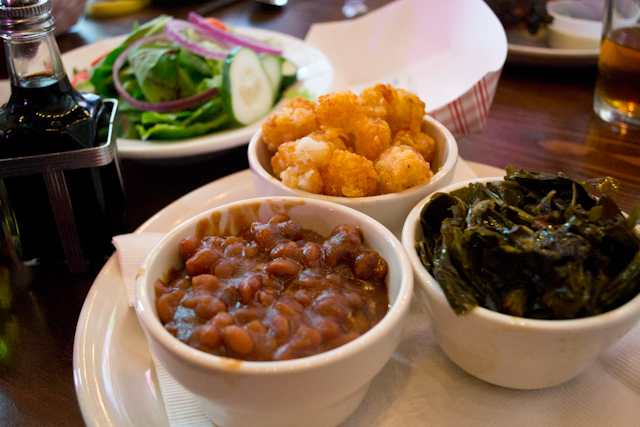 It happened to be my dad's birthday over the weekend, and so we all met up at his favorite all-you-can-eat sushi place, Nori Nori in Sandy Springs. They have a massive buffet of foods and I was pleasantly surprised to realize that there were plenty vegetarian options.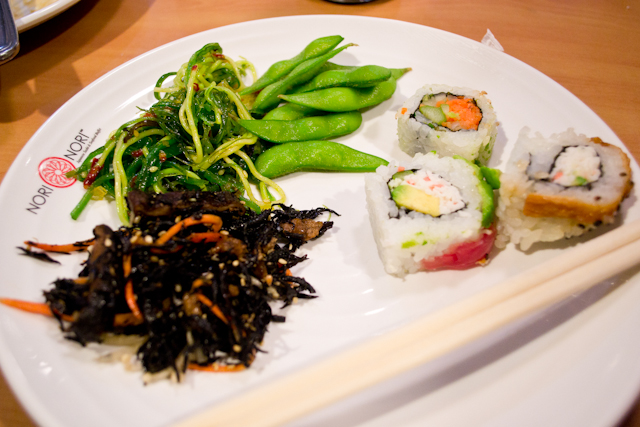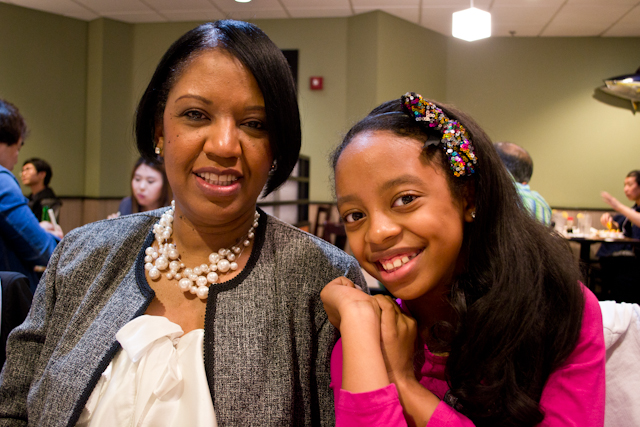 It was great to all be together to celebrate his birthday! Since I went to college and law school out of state, I haven't been home for his birthday in years! It was a party complete with embarrassing percussion instruments and waiters singing "Happy Birthday".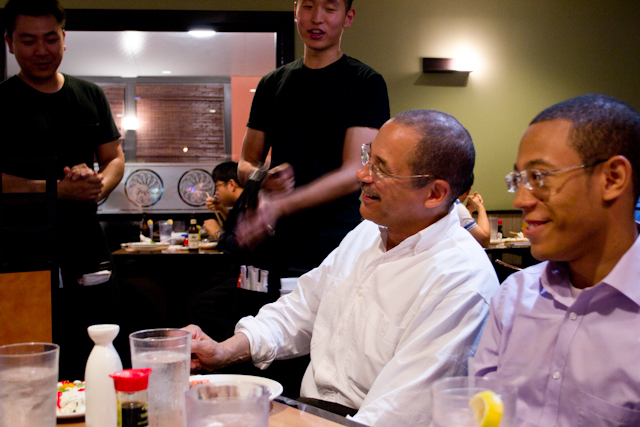 My dad is a protein shake fiend and was in need of a new blender, so Jason and I got him a Ninja! He loved it!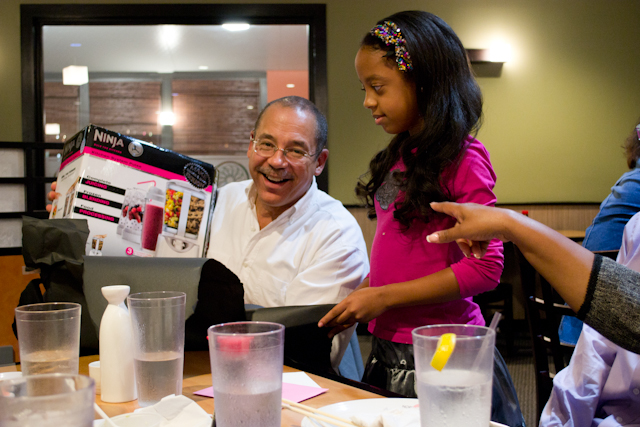 And of course there was the meal that I shared with you on Sunday, the incredible dinner we had at JCT Kitchen in West Midtown.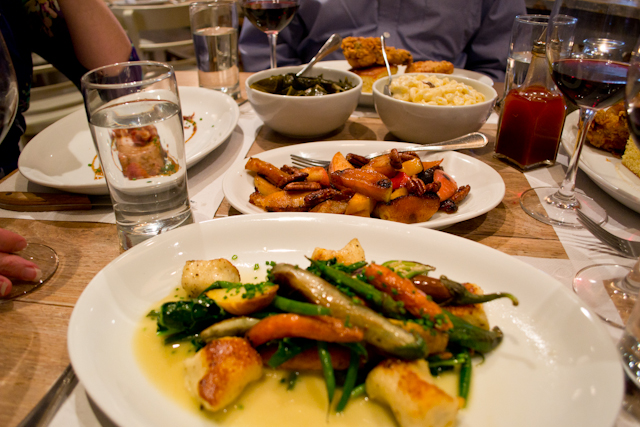 Atlanta is FULL of incredible food! It's the main reason one of the reasons I love this city so much! There are so many young and inspired chefs here and new restaurants opening up that it's impossible to get bored. There were so many other places we wanted to take Jason's parents but we just ran out of meals! It'll have to wait for the next visit.

-Lauren