The sun decided to at least peek out today! I don't know about where you live, but the weather in Georgia has been very odd lately. As in constant rain and temps in the 60′s and 70′s when usually our summers involve humid days hovering around 100 degrees. I have no idea what's going on! But there was enough sun this morning that it actually came into our bedroom and woke me up, which I love. I woke up too starving to wait for breakfast!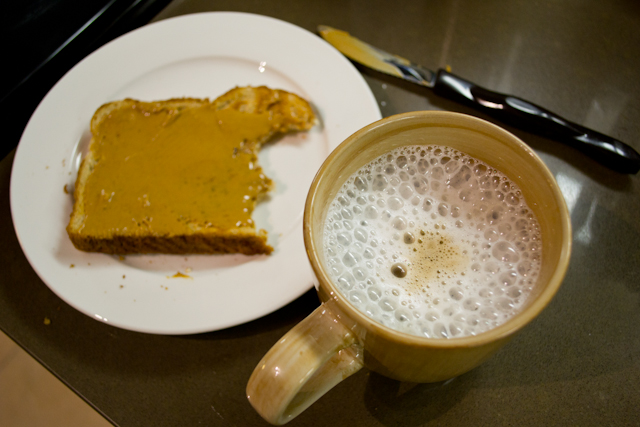 So I had a coffee and piece of toast while I was making my "real" breakfast. It felt like a frothed milk kind of morning! FYI, soy creamer does not froth nearly as well as plain soymilk or cream. But it still tastes delicious. And so did real breakfast! Cheese grits (a combination of spicy pimento and fontina cheeses), a poached egg, and TJ's new meatless breakfast sausage.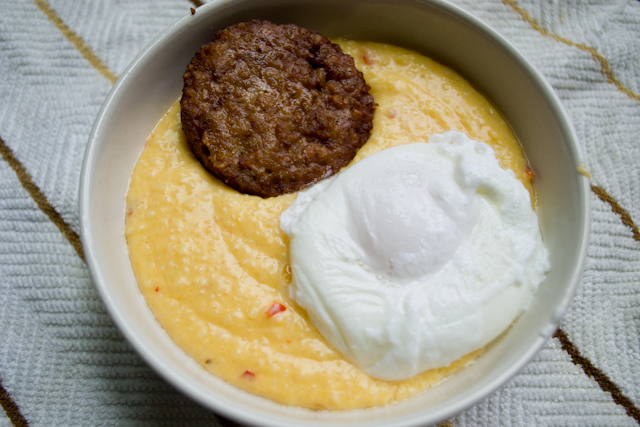 I've been ALL about the grits this past week! I've had them almost every morning. A bowl of grits keeps me full for hours, and with an egg on top it's even better.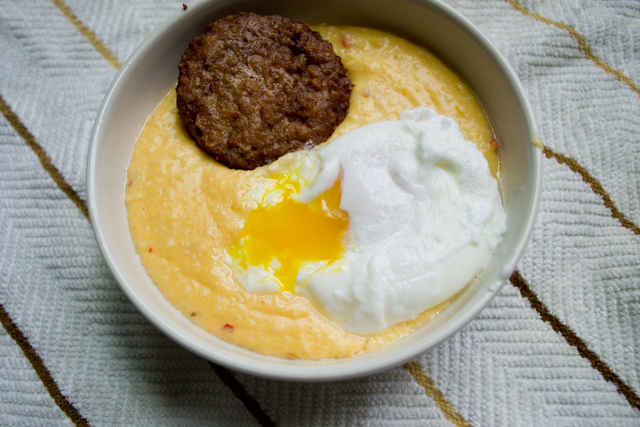 Once I had my breakfast (I made Jason some too), I headed out to finish the rest of my grocery shopping for the week.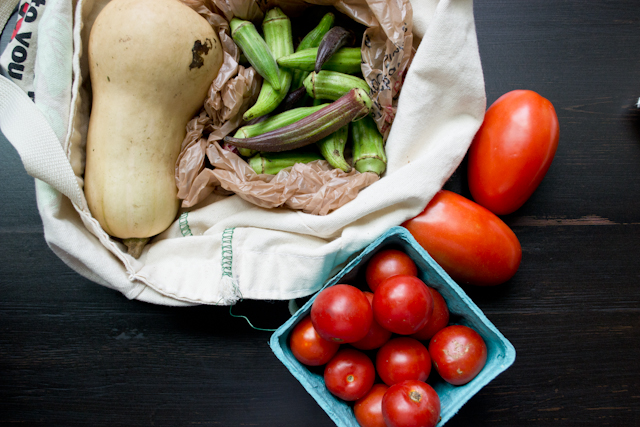 Our groceries this week came from a combination of farmer's markets. Friday I got the plum tomatoes and some (unpictures) hot peppers from the mobile farmers market that comes to our complex. Yesterday I went to the Decatur Farmers Market and picked up some cherry tomatoes, butternut squash (AH! Fall is coming!) and okra. I got the rest of what we needed from DeKalb Farmers Market, which is basically an amazing farmers market style grocery store. Three cheers for local food! I can't even believe how gorgeous and delicious the tomatoes are right now.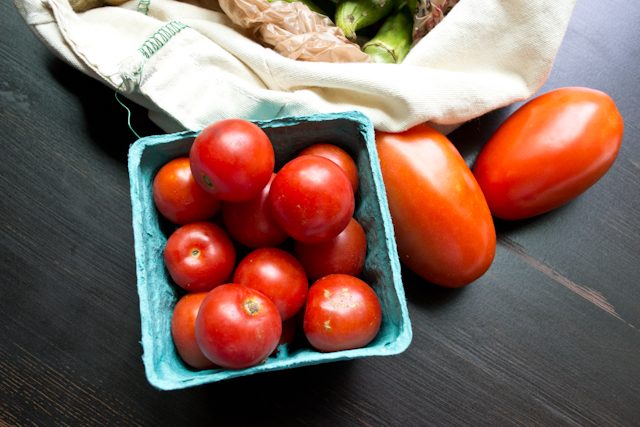 I'm back to getting fresh flowers for the house every week! Only a few bucks and does so much to cheer up the place.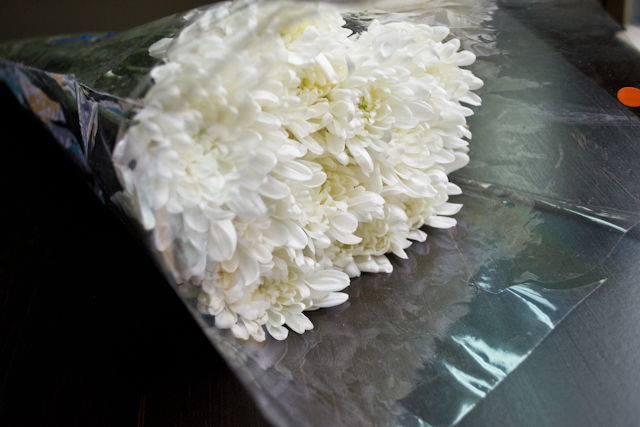 I also got a bag of Georgia peaches. The stand said "Last peaches of the season", and I may have cried a little. I will savor these guys.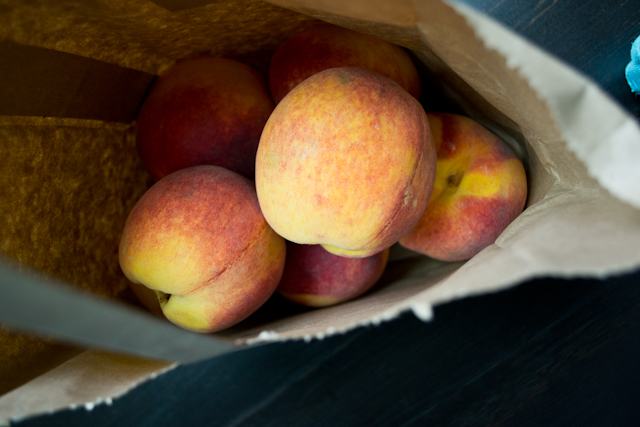 Soul Food Sunday is back! Sundays just seem like the perfect time for a Southern meal to me. I used those okra from the farmers market to make a really delicious side dish.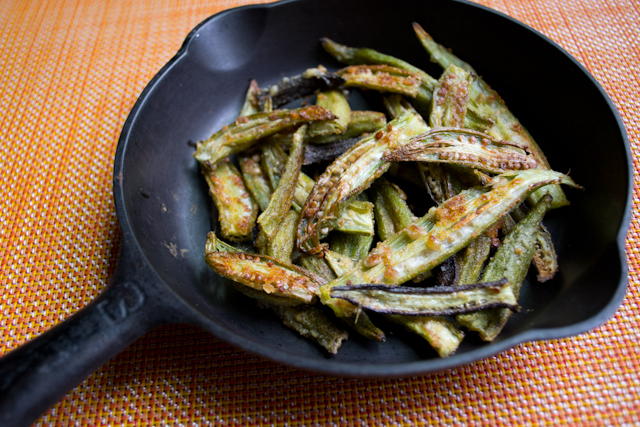 Okra doesn't get nearly enough props! It's delicious, inexpensive, and really good for you (full of vitamins and antioxidants!). If you've ever shied away from it because you think it's slimy, you need to try this recipe!
Crispy Garlic-Parmesan Okra
Nutrition Information
Fat:

5

Carbohydrates:

7

Protein:

3
Prep time:
Cook time:
Total time: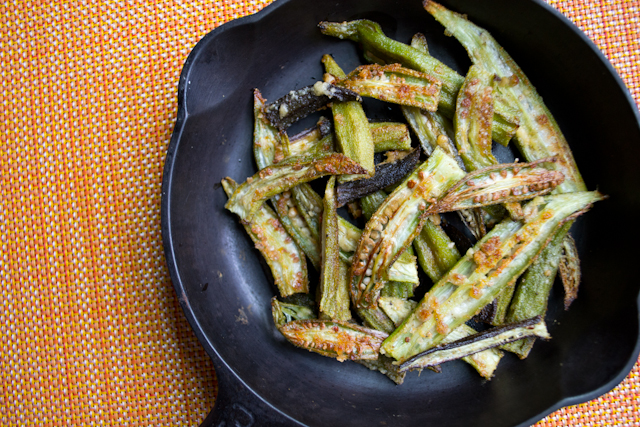 Crispy, savory okra makes an awesome side dish for any meal. No slime involved!
Ingredients
2 c. fresh okra
olive oil
1 t. salt
1 t. garlic powder
½ t. pepper
1 T. grated parmesan cheese
Instructions
Preheat oven to 425 degrees.
Slice okra in half lengthways (you can cut the tops off to if you like).
Place okra on a cookie sheet and drizzle with a tiny bit of olive oil, a couple teaspoons max (too much oil makes it soggy).
Sprinkle with salt, pepper, and garlic powder, and toss everything together.
Spread the okra out evenly on the pan and roast in the preheated oven for about 15 minutes, or until the okra starts to brown. Flip them over a couple times during the roasting.
Once they are starting to get golden. sprinkle the cheese on top of the okra. Return to the oven for another 5-10 minutes, or until the cheese and both sides of all the okra are golden brown.
Serve hot!
Roasting it at a high temp gets the okra all crispy, and the parmesan cheese and garlic give it so much flavor. I could eat this all day.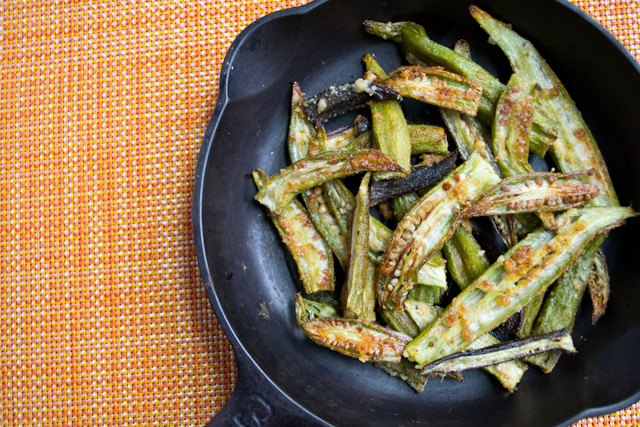 Along with the okra I used the cherry tomatoes to make a fresh corn salad.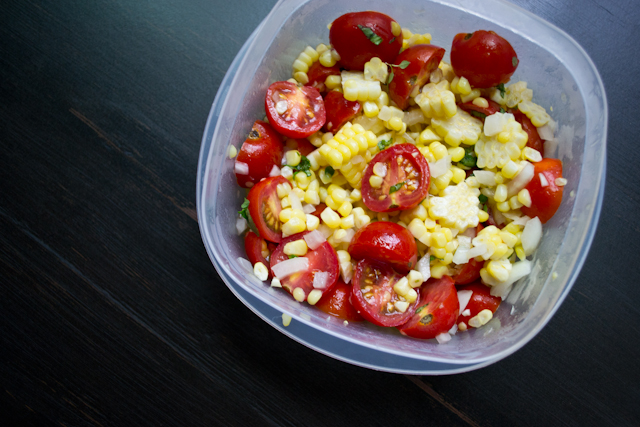 I added a little of the basil and lemon thyme that I'm growing to the salad. So good! And for protein I fried Jason a local catfish fillet, and cooked a meatless chicken cutlet for myself.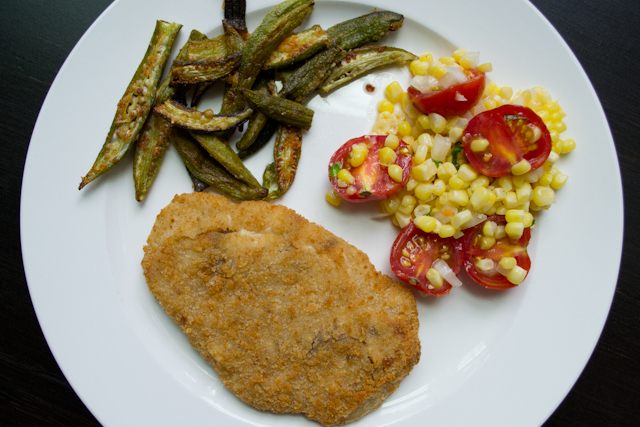 Of course my sous-chef was there with me the whole time.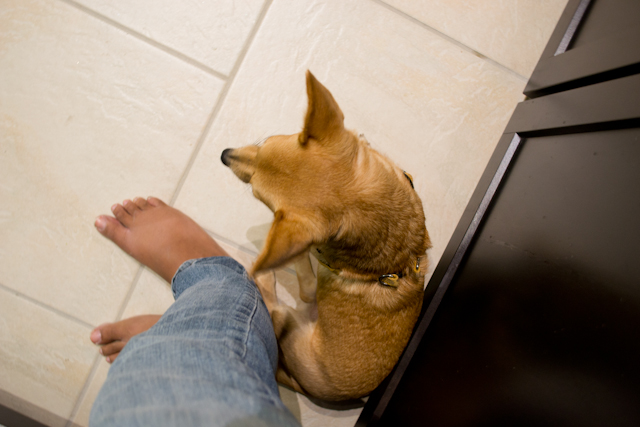 Have a great start to your week!
-Lauren